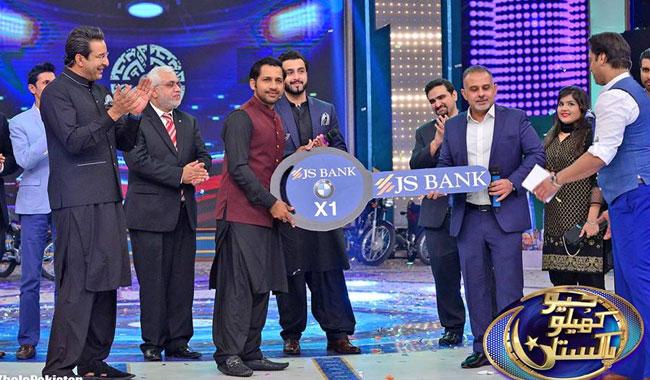 JS Bank, in association with Dewan Motors, presented Sarfraz Ahmed, the captain of the Pakistan Cricket team, with a BMW X1 on the popular game show, Geo Khelo Pakistan,  alongside the two hosts, Wasim Akram and Shoaib Akhtar, JS Bank awarded Sarfraz this beautiful car as a token of gratitude to thank him and the Pakistani Cricket Team after they defeated India in the ICC Champions Trophy final held at the  Oval in London.
Mr Basir Shamsie (Deputy CEO of JS Bank) gifted the BMW to Sarfraz on Geo Khelo Pakistan's 25th Episode while the audience chanted "Sarfraz Zindabad" The whole nation was very proud of their National Cricket Team and also took to social media to thank the Pakistani Cricketers for bringing the Trophy home and proving everyone, who doubted their team, wrong!
Fans thanked Sarfraz as well as JS Bank for properly honoring him with a decent reward in the form of the luxurious BMW X1 by using the hashtag #JSHonorsSarfraz and posting on Social Media.
Sarfraz enjoyed being on the set of Geo Khelo Pakistan and seemed to be very comfortable in the presence of the legendary cricketers, Shoaib Akhtar and Wasim Akram! Sarfraz also thanked God for this victory and also added that the team worked really hard for this and they were grateful for all the fans whose prayers helped them achieve this.
The Cricketers then wished the audience and all Pakistanis a Happy Eid.